Menu
We offer a range of food, from a light lunch to a full three-course dinner.
In our cooking we try to capture the season and make the food go well toghether with the atmosphere of the place. We use our own vegetables if possible, and berries and fruits from the forests. We also try to buy locally produced food as much as possible. We make local traditional food as well as food with influences from foreign cuisines.
Find the tastes of the season here >>
Menu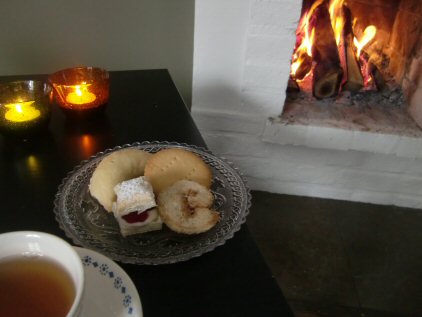 Starters
• Smoked salmon and avocado on home-made bread with horse radish crème
• Mango and Papaya salsa with big shrimps
• Chicken satay with peanut salsa
• Shrimp coctail
• Crab and lobster bisque with brandy
60 SEK
Main courses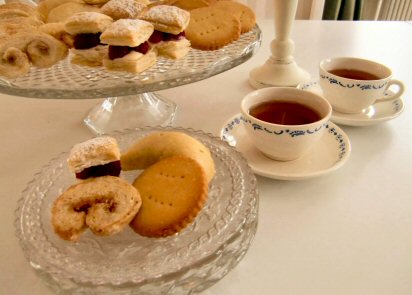 • Beef filet with special sherry and green pepper sauce, served with grilled vegetables
• Roasted whole pork cutlet with rosemary pesto and chanterelle sauce
• Porc filet filled with tomato and cream chesese with grilled vegetables
• Portersteak with roast root vegetables
• Beef sirloin steak with red wine sauce and ruccola
• Chicken breast filled with pesto genovese and red wine sauce
• Baked salmon with dill pesto and cold roe-creme fraiche sauce
• Lamb steak gratinated with rosemary pesto, served with blackberry barbecue sauce
Together with main dished will be served either potato wedges, potato gratin or roasted potatoes and vegetables. Salad is also included.
Price 185 SEK (tournedos +30 SEK, sirloin +15 SEK) incl. of water / non-alc. beer, coffee/tea and bisquit
Buffet dishes
A buffet of several smaller dishes can be served as a nice alternative to a traditional dinner.
• Mango and Papaya salsa with big shrimps
• Chicken pyramide
• Chicken satay with peanut salsa
• Grilled beef satay with black bean sauce
• Watermelon mixed with feta cheese
• Smoked salmon, turkey or roast beef
• Grilled chicken drumsticks
• Mini-quiche with kale and walnuts
• Potato salad with sugarpeas, radishes, and a mustard vinaigrette
• Traditional home-made potato salad
• Wasabi cheesecake with whitefish roe
200 SEK, 3-4 dishes plus potato salad and green salad, incl. of water / non-alc. beer, coffee/tea and bisquit

Desserts
• Panna cotta with blueberry and raspberry sauce
• White chocolate mousse cake with red currants
• Chocolate wrapped rasperry mousse cake with white chocolate and blueberry topping
• Crème brulée
• Småland traditional oven-baked pears with caramel syrup
• Knällsberg watermill's own Daim icecream
• Småland traditional cheesecake with raspberry jam and whipped cream
• Crèpes with Kahlua chocolate mousse and hot chocolate syrup
50 SEK
When ordering food the rent will be included in the price. Minimum number of people is 10. The customer can cancel a reservation until a week before. Number of people can be changed up to 24 hours before.