Garden - sections
In the garden I have aimed for a balance between aestethics and diversity of plants. Experimenting with shape, color and the selection of plants has been important. The climate zone of our garden is USDA 6b with annual minimum temperatuers of aprox. -20 celsius.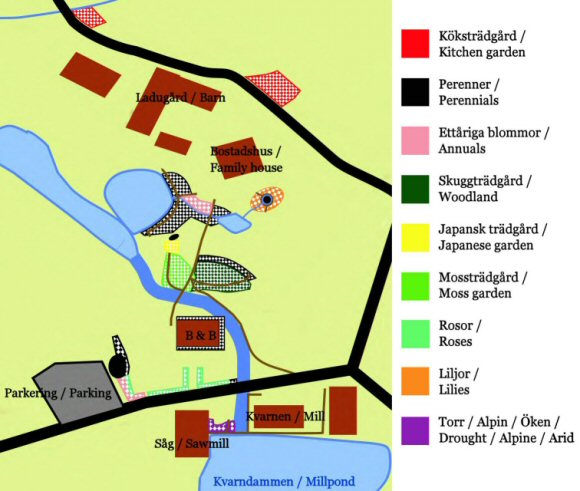 A botanical garden tries to have as many species as possible whereas a designer garden focuses on aestethics only. I tried to go somewhere in the middle. My aim is to have many exotic species since I am interested in plants first. To grow only plants that are common might be a bit dull but still it is important to bear in mind that a garden must go with the natural environment. The fact that Sweden is a cold place makes each exotic plant a higly valuable addition. I hope that one finds our garden an inspiring place and that we can show that many rare and unusual and not always fully hardy plants can be grown here. As the garden is still under formation I plan to add many more species of plants in the future.
Below you can read about the different sections of the garden:

The Kitchen garden
Our kitchen garden consists of two pieces of land that used to be a bog and was drained in the past. We try to grow a variety of vegetables and herbs which we use in our cooking as much as we can. We also grow a small amount of cut flowers used for decorations.

List of species >>

Perennial borders
The perennials used to be mostly frequent garden plants. Recently I have been adding more unusual species and plan to add many more. I use both plants I have sown myself and plants purchased at plant nurseries.

List of species >>

Annuals
Annuals I feel is important to get a living garden because of the changes through the seasons. Annuals are also good to use to fill empty parts of the garden. I have sown many of the annuals myself but some are purchased at local nurseries. I try to use changing colour schemes every year.
Japanese garden
The Japan inspired section is made up of a gravel courtyard style section surrounded by shrubs and trees typical for a Japanese garden. When selecting plants there are many difficulties because of our climate being much colder than in Japan. For example the typical Azaleas used in a Japanese garden cannot survive our winters. Some plants may also want more rain during summer than what we get
in south Sweden. However, there are some shrubs suitable including Box or Yew, northern species of Azaleas and Rhododendron. Bamboo is of course also a must. Currently we have six species of bamboo. I also plan to add species like Japanese Holly (Ilex crenata), and Japanese Dogwood (Cornus Kousa). Other typical japanese plants are sakura (Prunus sp.) and skimmia.
List of species >>

Moss garden
After getting inspiration from trips to Japan I got an idea to make a moss garden, a bit like the ones that are common around temples. I put this section below the great maple of Knällsberg and planted wintergreen shrups around and also added a few Japanese maples. A good thing about a moss garden is that it is attractive all seasons. Especially throughout our long, grey winters with little snow it is nice to have something green to look at.
Woodland

Below the big elm trees we planted shade-loving shrubs, bushes, and perennials, forming a woodland garden. I have chosen plants that will cover large areas quickly and will gradually add more valuable solitary plants. My aim is to get a good mix of wintergreen and other plants, also to protect the rest of the garden from wind and improve the micro climate.
Lastly I would like to say that one cannot describe a garden in words, it has to be seen in real life.

Martin Johansson
Follow the seasons in the garden >>